The Legend and History of Amanohashidate
Origins of the name 'Bridge to Heaven'
As fate would have it, I found myself entranced by the ethereal beauty of Amanohashidate. This legendary locale, nestled in the stunning scenery of Kyoto Prefecture, Japan, is aptly designated as the "Bridge to Heaven." The origin of its evocative name is steeped in history, ushering from the delicate brushstrokes of ancient Japanese calligraphers. The towering pine trees lining its enchanting sandbar conjure visions of a celestial path, bridging the earth to heavenly realms. It's no wonder why this picturesque landscape captures the hearts of many who set foot on its celestial shores!
The mythology behind Amanohashidate
Now, let's delve into the mystical tapestry of Japanese folklore that lies behind this breathtaking sight! According to the ancient tales of Japan's native Shinto religion, Amanohashidate is said to have been created by none other than the legendary deities Izanagi and Izanami. In the midst of their divine task of creating the Japanese archipelago, Izanagi dipped his jeweled spear into the ocean, allowing a droplet to fall and form the basis of Amanohashidate. It was meant to be a celestial ladder for the deities to descend from heaven and grace the earth with their presence.
Alas, as luck would have it, the ladder collapsed, leaving the 'Bridge to Heaven' stranded in its current earthly abode. The poetic serendipity of this mythological tale perfectly echoes the whimsical essence of Amanohashidate, don't you think?
Historical significance of Amanohashidate
Amanohashidate's illustrious history is as rich as its mesmerizing beauty. It's said to have been a pivotal inspiration for celebrated Japanese artists and poets throughout the ages, including the likes of Basho, the Haiku master. In fact, it is frequently referred to as one of Japan's Nihon Sankei, or "Three Scenic Views," alongside Miyajima and Matsushima.
Throughout the centuries, Amanohashidate was also a bustling port connecting the Sea of Japan with Kyoto, the ancient Japanese capital. A testament to its significance, the region was granted the prestigious status of a military outpost during the Age of Warring States, with fortresses such as the Nariai-ji Temple. This rich tapestry of history only adds to the allure of Amanohashidate, irresistibly inviting visitors to walk in the footsteps of ancient poets and warriors alike.
The role of Amanohashidate in Japan's cultural heritage
Bearing the weight of such a rich and varied history, it's no surprise that Amanohashidate occupies a special place in Japan's cultural heritage. The revered pines that adorn its sandbar are at once iconic and mesmerizing, while the ancient temples and shrines scattered throughout the mountain slopes that frame it pay homage to its legendary origins.
Amanohashidate continues to be a cherished emblem of Japanese culture, hosting traditional festivals and events that celebrate its fascinating folklore. Among these are the annual Kasagake horseback archery event and the Hanami festival, which welcome thousands of visitors to revel in the exquisite surroundings.
As I reflect on the enchanting sojourn to this celestial bridge on earth, I can't help but feel a deep sense of gratitude for the opportunity to experience such a transcendent gem of Japan's cultural heritage. Truly, a visit to Amanohashidate is an unforgettable encounter with the mystique and beauty of ancient Japan. No wonder they call it The Bridge to Heaven!
Geography and Unique Features of Amanohashidate
Location and accessibility of Amanohashidate
Amanohashidate, often referred to as the "Bridge to Heaven," is one of Japan's most stunning natural landscapes that I've ever visited. Located in Miyazu Bay in northern Kyoto Prefecture, this breathtaking sandbar stretches across 3.6 kilometers, connecting the two sides of the bay. There's no denying that it's quite a sight to behold!
Getting to Amanohashidate is a breeze, whether you're traveling by train, bus, or car. By train, you can choose between the JR Limited Express or the Tango Railway, both of which will take you to Amanohashidate Station. Alternatively, buses are available from Kyoto City to Amanohashidate, as well as from Osaka and Nagoya. If you prefer to drive, ample parking is available in the vicinity.
The sandbar and its formation
I'm fascinated by the fact that Amanohashidate has been formed by the gradual accumulation of sand and ocean currents over a period of thousands of years. With its width varying from 20 to 170 meters, the sandbar provides a natural pathway across the bay, which I thoroughly enjoyed strolling along during my visit. The surrounding waters change in color from a deep blue to a vibrant emerald green, depending on the weather and time of day; both hues perfectly complement the pristine white sands.
Flora and fauna in the area
One of my favorite aspects of Amanohashidate is the beautiful flora that adorns this heavenly landscape. Over 8,000 pine trees are dispersed across the sandbar, with each tree having its own unique shape and character. These trees, along with the many varieties of plants growing in the area, contribute to Amanohashidate's reputation as a lush, natural paradise.
The area's rich ecosystem supports a diverse range of fauna as well. When I visited Amanohashidate, I was lucky enough to spot white-tailed eagles soaring overhead. You may also encounter various other seabirds and, if you're truly fortunate, even dolphins frolicking in the water.
Seasonal changes and their effects on the landscape
No matter the season, Amanohashidate never ceases to amaze. In the spring, the cherry blossoms lining the sandbar create a delicate pink canopy, drawing visitors from all over the world. The balmy summer months offer pure relaxation, as beachgoers soak up the sun and perfect their sandcastle-building skills.
Come autumn, the area dons a blanket of colorful leaves, providing the perfect opportunity for leisurely bike rides through the picturesque scenery. But perhaps my favorite season to visit is winter. Although the temperatures may be chilly, the snow-dusted pines and tranquil atmosphere lend a sense of calm and tranquility.
For anyone looking to explore one of Japan's most beautiful natural landscapes, Amanohashidate is an absolute must-visit. With its unique formation, rich ecosystem, and enchanting beauty, it's easy to see why it's aptly called the "Bridge to Heaven." And trust me, the experience is nothing short of heavenly.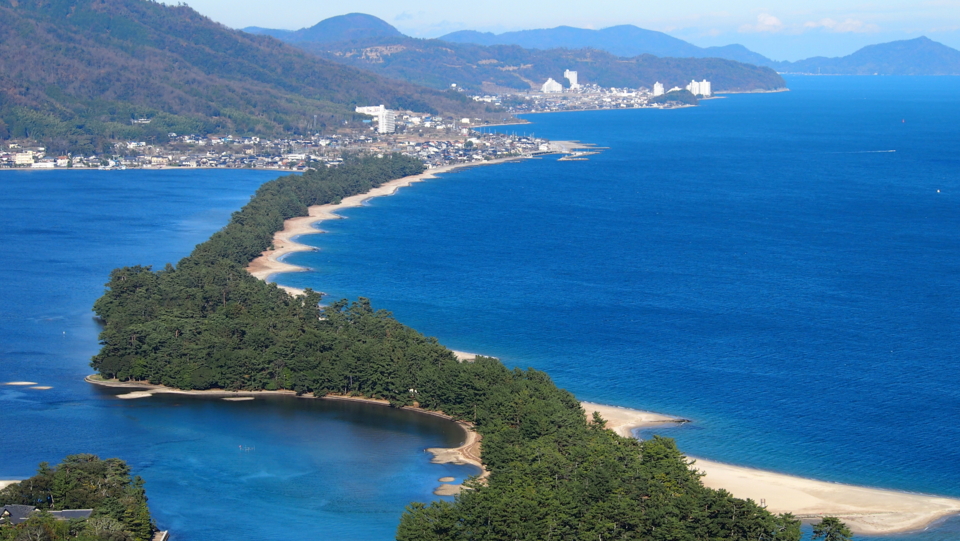 Tourist Attractions at Amanohashidate
I have always been fascinated by the natural beauty and unique culture of Japan. Recently, I had the opportunity to visit the "Bridge to Heaven," Amanohashidate. It wasn't just a breathtaking sight; the area also boasts a plethora of attractions that left me entertained and awestruck. Let me give you a glimpse of these fascinating tourist spots.
Amanohashidate View Land
Upon arriving at Amanohashidate, I was itching to take in the majestic view of this natural wonder. The perfect vantage point? The Amanohashidate View Land. I hopped on a cable car that gently whisked me up the hill, offering me jaw-dropping panoramic views as we ascended. At the top, I encountered an amusement park complete with entertaining rides and attractions. However, the real star of the show was the observation deck which allowed me to gaze at "heaven's bridge" in all its glory. It was truly worth every yen!
Kasamatsu Park and its approach
Next up was a visit to Kasamatsu Park. I heard that taking the ferry across Amanohashidate Bay and then riding a chairlift or cable car up to the park offers astonishing views, and boy, were they right! Upon reaching the park, I was greeted by a serene atmosphere filled with lovely trees, well-maintained paths, and several observation decks. There, I tried the famous "matanozoki" pose – bending over and looking at Amanohashidate between my legs – said to make the view even more heavenly. Trust me, it's worth the awkward posture!
Chion-ji Temple and its history
A trip to Japan wouldn't be complete without visiting at least one temple, and my time at Amanohashidate was no exception. Chion-ji Temple, located at the southern end of the sandbar, caught my eye due to its rich history, stretching back over a thousand years. As I strolled through the temple grounds, I couldn't help but feel humbled by the antiquity surrounding me. The temple is primarily associated with wisdom, and countless students come to pray for success in their studies; that's right up my alley!
Nariai-ji Temple and the Pagoda
Nariai-ji Temple, a quick cable car ride away from Amanohashidate, is not to be missed. One of my favorite experiences was taking a leisurely hike through the lush surrounding mountains before reaching the temple. Once there, I was met with the striking structure of the 5-story pagoda, constructed in the 15th century. This architecturally impressive venturing haven provided me an oasis of spiritual tranquility amidst stunning landscapes that left me speechless.
Amanohashidate Winery and its offerings
Lastly, I couldn't resist visiting the Amanohashidate Winery at the southern tip of the sandbar. Not only was the setting picturesque, but the local wine selection tickled my taste buds! I had the pleasure of tasting several wines, each with its unique flavor profile, crafted with precision by experienced winemakers. My personal favorite was the grape variety "Koshu," a must-try for any wine lover. And, of course, I couldn't leave empty-handed, so a few bottles found their way into my luggage as gifts and reminders of an unforgettable trip!
Venturing through Amanohashidate and its surroundings was an experience of a lifetime. There is simply something magical and sublime about this place. From the heavenly views at Amanohashidate View Land and Kasamatsu Park to experiencing the rich history preserved in Chion-ji Temple and the Pagoda at Nariai-ji Temple, my heart was soaring! And nothing caps off an incredible journey like savoring unique wine flavors at the Amanohashidate Winery. A trip to Japan is incomplete without visiting the unforgettable "Bridge to Heaven" and leaving a piece of your heart there.
Experiencing Amanohashidate's Beauty
Japan truly is a land of wonder and beauty, and perhaps nowhere is this more evident than in the breathtaking Amanohashidate. As one of Japan's renowned Three Scenic Views, the very name of this stunning sandbar means "bridge to heaven," and after experiencing it firsthand, I couldn't agree more! Let me regale you with my insider tips on how best to experience this heavenly locale, including the unique "Matanozoki" viewing technique, optimal visiting times, photography tips, and even how to traverse the sandbar on foot or by bike!
The traditional 'Matanozoki' viewing technique
Have you ever felt like you've been transported to an entirely different world? That's precisely how I felt when I first laid eyes on Amanohashidate's mesmerizing sandbar, which seems to mysteriously float above the sparkling azure waters below. But the real magic, my friends, is experiencing the celestial view through the traditional "Matanozoki" viewing technique. Here's the scoop: To fully appreciate the otherworldly beauty of Amanohashidate, simply follow the time-honored tradition of bending over and viewing the sandbar between your legs! Believe it or not, this quirky method offers a perspective that makes it seem as though the sandbar is indeed a magical bridge floating to the heavens—and it's an experience you won't soon forget!
Best times to visit Amanohashidate
As a savvy traveler, I'm always on the lookout for the best times to visit my favorite destinations—and Amanohashidate is no exception! For that elusive balance of minimal crowds and gorgeous weather, I highly recommend visiting during Japan's shoulder seasons (spring and fall). With the area's cherry blossoms in full bloom, spring offers an enchanting backdrop for the already stunning sandbar. In contrast, the vibrant fall foliage adds an extra layer of beauty to Amanohashidate's already picturesque landscape. But fret not, fellow wanderlusters, because no matter when you plan your visit, Amanohashidate's otherworldly charms are sure to captivate and enthrall!
Photography tips and popular photo spots
Snapping envy-inducing photos is a must when visiting a destination as spellbinding as Amanohashidate, and I'm here to share my tried-and-true photography tips and favorite photo spots! To capture Amanohashidate's hypnotic sandbar from the best vantage point, make your way up to either Kasamatsu Park or Amanohashidate View Land—both offer jaw-dropping panoramic vistas that are simply to die for! And hey, while you're at it, why not get creative and snap a photo or two using the aforementioned "Matanozoki" technique? Talk about the perfect snapshot to immortalize your heavenly Amanohashidate adventure!
Taking a leisurely walk or cycling across the sandbar
Alright, my fellow adventurers, it's time to lace up those walking shoes or saddle up on a trusty bike, because traversing Amanohashidate's iconic sandbar is an experience that should not be missed! With a length of roughly 3.3 kilometers (about 2 miles), a leisurely walk or bike ride will allow you to fully immerse yourself in the serene beauty this natural wonder offers. Add to that the quaint cafés, souvenir shops, and centuries-old pine trees dotting the sandbar, and you've got yourself the perfect recipe for an idyllic and unforgettable excursion!
So there you have it, my fellow travelers! With a blend of traditional charm, ethereal beauty, and playful quirks, Amanohashidate truly is a bridge to heaven on Earth. Pack your bags and embark on this otherworldly journey—you won't be disappointed!
Food and Cuisine in Amanohashidate
The culinary journey through Amanohashidate adds another unforgettable dimension to my experience. Whether they're local delicacies, traditional Japanese dining, or contemporary cafés, Amanohashidate is a food lover's paradise. In this section, let me whet your appetite by discussing the mouthwatering dishes and eateries you shouldn't miss when visiting this heavenly destination.
Local delicacies to try
A visit to Amanohashidate isn't complete without trying the region's local specialties that left my taste buds craving for more. The must-try dishes are:
Taiza-gani: This rare and expensive variety of snow crab is known for its delicate and sweet flavor. The crab season runs from November to March, so plan your trip accordingly if you want to indulge in some crustacean delight.

Saba (mackerel) sushi: Kyoto's proximity to the sea makes it an excellent place to enjoy fresh seafood. Saba sushi features marinated mackerel atop vinegared rice, wrapped in the perfect morsel of deliciousness.

Kyoto-style Udon noodles: These thick, chewy udon noodles are served in a rich, flavorful broth, perfect for warming up on a chilly day.
Recommended restaurants and cafes
From cozy cafés to exclusive restaurants, let me walk you through some of my favorite spots for a satisfying meal in Amanohashidate.
Chitose Restaurant: Located in the heart of Amanohashidate, Chitose offers a spectacular view of the area while savoring traditional Kyoto cuisine. Their menu is a perfect blend of local and seasonal fare.

Noryo Yuka Amanohashidate: This picturesque riverside café offers a unique dining experience as you enjoy your meal from a Japanese-style floor seating area overlooking Amanohashidate's scenic view. They serve an eclectic mix of dishes, from sushi to pasta, ensuring all palates are catered to.

Café Katsura: A charming café tucked away in the woods of Amanohashidate, Café Katsura is the perfect spot to enjoy a light meal or a relaxed afternoon tea. Their menu offers a delightful mix of coffee, tea, cakes, and light meals.
Experiencing Kaiseki dining at a ryokan
My Amanohashidate trip wouldn't have been complete without indulging in a traditional kaiseki meal at a local ryokan (Japanese-style inn). The kaiseki menu comprises various small dishes that showcase the season's best ingredients, presented in a beautiful and elegant fashion.
At Amanohashidate, many ryokans offer kaiseki dining experiences, combining the best of local flavors and seasonal dishes. One such ryokan is Monjusou Shourotei, where I had the opportunity to enjoy an exquisite kaiseki meal, complete with an awe-inspiring view of the famous sandbar.
Trying Sake at Amanohashidate Winery's tasting room
To round off your Amanohashidate gourmet experience, why not give your taste buds a treat by sampling some fine sake at the Amanohashidate Winery's tasting room? Their friendly and knowledgeable staff guided me through an array of sakes, enabling me to discover my personal favorite, which I brought back home with me as a souvenir.
In conclusion, with its unique local delicacies, lovely eateries, and traditional dining experiences, Amanohashidate's culinary landscape truly enriches the overall heavenly experience. So be sure to give your taste buds a trip to heaven while visiting this magnificent destination.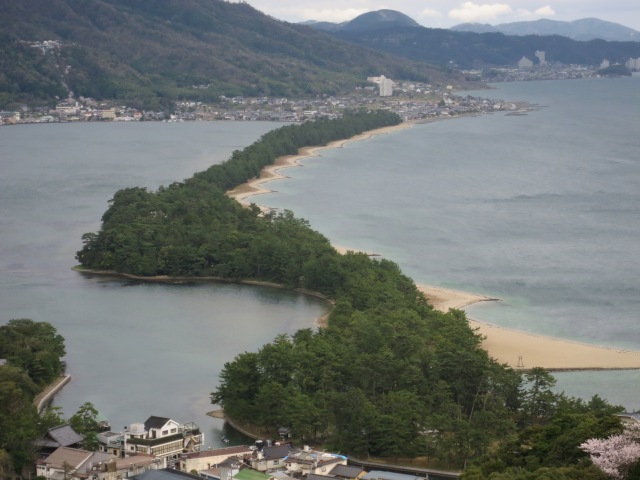 Accommodations in and around Amanohashidate
When planning a trip to Amanohashidate, you might be wondering where to stay. Well, fret not, my fellow travelers! I've gathered some options for you, from traditional Japanese inns to luxury spa retreats. So, let's dive in and explore the various accommodations available in and around Amanohashidate.
Staying at a traditional Japanese Ryokan
If you're looking for an authentic Japanese experience, look no further than a traditional ryokan. These inns offer a unique glimpse into Japanese culture and hospitality, complete with tatami-mat rooms, futon beds, and public baths (onsen). Some ryokans in the Amanohashidate area even provide meals featuring local specialties, which'll tantalize your taste buds. Popular options include Monjusou and Amanohashidate-onsen Monjusou Shourotei – both with stunning views of Amanohashidate.
Western-friendly hotels and guesthouses
For those craving the comforts of home, there are plenty of Western-style hotels and guesthouses to choose from. Whether you're traveling solo or with a group, these options offer amenities like en-suite bathrooms, air conditioning, and Wi-Fi. Some prime picks around Amanohashidate include Comfort Inn Kyoto Miyazu and Amanohashidate Hotel – both offering cozy accommodations without breaking the bank.
Budget-friendly options for backpackers
If you're a budget-conscious traveler (aren't we all?), fear not – there are plenty of wallet-friendly options available. For instance, try out the local youth hostels and guesthouses, which offer dormitory-style rooms or private Japanese-style rooms at reasonable prices. Seikiro Ryokan Historical Museum Hotel is one such option that combines affordability with a rich historical background, making it a memorable experience on a shoestring budget.
Luxury resorts and spa retreats
Lastly, for those looking to indulge, Amanohashidate boasts some luxurious resorts and spa retreats. Treat yourself to a pampering stay at one of these high-end accommodations, complete with opulent amenities, fine dining, and relaxing spa facilities. Genmyoan, nestled atop a hill overlooking Amanohashidate, takes the cake for its gorgeous views, refined cuisine, and attentive service. Another option is Amanohashidate-onsen Kagaya, which offers enchanting ocean views and a serene atmosphere, perfect for a heavenly getaway.
Now that I've armed you with an array of accommodations to choose from, you're one step closer to embarking on your Amanohashidate adventure! Whether it's immersing yourself in traditional Japanese culture, finding comfort in familiar settings, sticking to a budget, or living the luxe life, there's something for everyone in this magical destination.
Getting to Amanohashidate and Transportation Options
If you're wondering how to access the breathtaking Amanohashidate, commonly known as "The Bridge to Heaven," look no further. I'll guide you through the various transportation options available to make your journey as smooth and enjoyable as possible.
Access from Kyoto and Osaka
Amanohashidate is easily accessible from both Kyoto and Osaka. From Kyoto, simply hop on a direct express train on the JR Hashidate Line. It'll whisk you away to Amanohashidate Station in around two hours.
If you're coming from Osaka, it's a bit more of a journey, but still manageable. I recommend taking the JR Kinosaki Limited Express train to Fukuchiyama Station. Once there, transfer to the Kyoto Tango Railway and continue to Amanohashidate Station. The journey takes approximately three hours, but don't let that deter you – the picturesque scenery along the way is well worth it.
Using Japan Rail Pass and other discount passes
Being a thrifty traveler, I know the importance of utilizing discount passes. And getting to Amanohashidate is no exception. If you're using a Japan Rail (JR) Pass, you're in luck. The pass covers the trip from Kyoto, and even takes you part of the way from Osaka. Just remember that you'll need to pay a separate fee to use Kyoto Tango Railway while coming from Osaka.
Other discount passes are available for the Kyoto Tango Railway, which runs between Kyoto and Amanohashidate. The Tango Discovery Ticket is a great option, and it covers round-trip travel on the Kyoto Tango Railway, free use of local buses at your destination, and free admission to participating attractions. Talk about bang for your buck!
Renting a car and driving to Amanohashidate
For those who prefer the freedom of exploring at their own pace, renting a car and driving to Amanohashidate might be right up your alley. From Kyoto, it's about a two-hour drive, and from Osaka, it's roughly three hours. Just be aware that you'll encounter toll roads along the way, and parking fees might apply once you arrive at your destination.
Keep in mind that in Japan, they drive on the left side of the road. If this is new territory for you, it might take some getting used to. But hey, variety is the spice of life. And don't forget that an International Driving Permit (IDP) is necessary to rent a car in Japan.
Bicycle rentals and exploring the area
Once you've arrived at Amanohashidate, renting a bicycle is one of the best ways to soak in the magical atmosphere. Several rental shops are conveniently located near Amanohashidate Station, and rates are quite reasonable, often around ¥1000 for a full day.
With a trusty bike at your disposal, you'll be able to venture off to explore the area at your own pace. Not only does this give you the freedom to visit numerous shrines, temples, and scenic vistas with ease, but it also offers a unique and unforgettable way to experience Japan's heavenly bridge.
So there you have it – a variety of transportation options to help you reach and explore the enchanting Amanohashidate. Whether by train, car, or bicycle, each mode of transportation offers a distinct and delightful way to fully immerse yourself in the beauty of Japan's "Bridge to Heaven." Happy travels!
Amanohashidate Festivals and Events
There's no better way to experience the culture and beauty of Amanohashidate than by participating in one of its many festivals and events. Personally, I find that each season brings something special to the area, enticing me to visit time and time again. In this section, I'll delve into the seasonal celebrations, the charm of cherry blossom and autumn foliage periods, enchanting lantern lighting ceremonies, and the diverse cultural performances and displays that you won't want to miss.
Seasonal Celebrations and Their Significance
As the seasons change, so do the dazzling array of events on offer in Amanohashidate. Each event holds great significance, rooted in local customs and traditions. When I visited in the spring, I joined the excited locals for the Cherry Blossom Festival, which celebrates the beauty of the blossoming cherry trees. Conversely, the Natsu Matsuri (Summer Festival) sees Amanohashidate come alive with lights, music, and parades, providing the perfect occasion to indulge my inner party animal.
Fall, on the other hand, brings the serene Chion-ji Temple Autumn Festival, featuring traditional music performances and an air of spirituality that I find utterly captivating. Finally, winter heralds the arrival of the Amanohashidate Oyster Festival, where visitors and locals alike huddle together to enjoy fresh, succulent oysters cooked over an open flame – trust me, it's a total game changer.
Cherry Blossom and Autumn Foliage Periods
When it comes to pure, unadulterated natural beauty, nothing compares to Amanohashidate during cherry blossom and autumn foliage periods. The former takes place in late March to early April, when the thousands of cherry trees along the sandbar burst into stunning, soft pink blossoms. I'll never forget the time I spent strolling through these ethereal landscapes, where it felt like I was wandering through an enchanted forest.
Equally breathtaking is the autumn foliage period, lasting from late November to early December. As the leaves change to vibrant shades of red, orange, and yellow, the landscape becomes an explosion of color that you simply have to see to believe. No matter how many times I visit during this time, I find myself in awe of nature's resplendent beauty.
Participating in Lantern Lighting Ceremonies
One of the highlights of Amanohashidate has to be the annual Lantern Festival, also known as Toro Nagashi. As night falls and hundreds of candle-lit paper lanterns float gracefully along the water, the whole area is imbued with a magical, almost surreal atmosphere. I've had the privilege of participating in this ceremony, releasing a lantern dedicated to the memory of a loved one. The experience was both moving and heartwarming, leaving me feeling truly connected to the local culture and customs.
Cultural Performances and Displays
Amanohashidate's cultural offerings don't end with festivals – I've been privileged to witness numerous traditional performances and displays, reflecting the region's rich history and heritage. From the powerful Taiko drumming that sends vibrations through your soul to mesmerizing Noh theatre performances, I've been transported to another world through these captivating art forms.
In addition, Amanohashidate is home to countless local art exhibitions and calligraphy workshops, where I've had the chance to develop a deeper understanding – not to mention appreciation – of Japanese artistic traditions. And, let's not forget the awe-inspiring sight of the impeccably preserved local temples and shrines. They stand as testaments to the timelessness of Amanohashidate's cultural splendor.
In conclusion, Amanohashidate is so much more than just a picturesque sandbar. It's a place rich in culture, tradition, and stunning natural beauty – all of which you can experience firsthand through its many festivals, events, and attractions.
Tips for Visiting Amanohashidate
When to visit for the best experience
Personally, I'd recommend visiting Amanohashidate during the spring or fall months. During these times, the weather is typically mild and pleasant, allowing for comfortable strolls along the sandbar and exploration of the surrounding area without breaking a sweat. Spring also brings the added bonus of cherry blossoms, while vibrant fall foliage offers a stunning backdrop during autumn. Plus, you'll be dodging Japan's notoriously hot and humid summer, as well as the winter chill. So, in a nutshell, April-May and October-November would be your golden window to experience the heavenly walkway.
Etiquette and cultural norms to observe
Japan is renowned for its blend of tradition and modernity, and Amanohashidate is no exception. While it's a popular tourist destination, it's also a spiritual and historical site, so it's important to be respectful and mindful of local customs.
When entering shrines or temples, remember to bow slightly upon entering and leaving. It's a small gesture that goes a long way in showing respect. Also, if you happen to partake in a tea ceremony or sample local cuisine, expressing gratitude (with a simple "ありがとう", which is "arigatou" in Japanese) to your hosts is always appreciated.
Another tip? Keep the noise levels low. Being loud and disruptive may result in a faux pas, so it's best to err on the side of caution.
Navigating Amanohashidate with a language barrier
Truth be told, English isn't widely spoken in Amanohashidate, but fear not, fellow wanderers! With a little preparation and good ol' patience, you can have a smooth journey through this picturesque locale.
First off, download a reliable translation app for those times when hand gestures just won't cut it. I've found Google Translate to be super effective (not to mention versatile with its camera function for translating signs).
Another gem is creating a custom phrasebook of key Japanese words or phrases, such as "yes" (はい, hai), "no" (いいえ, iie), "excuse me" (すみません, sumimasen), and "where is…" (どこですか, doko desu ka). These simple yet powerful words can work wonders in making your way around Amanohashidate.
Finally, embrace the visuals. Train stations, bus stops, and other public spaces typically have maps and signs in English or with clearly decipherable icons. Trust me, you won't be flying blind.
Safety and precautions to consider
As one of the safest countries in the world, Japan takes the cake when it comes to ensuring visitors and residents alike feel secure. To keep up with this gold standard, here are a few pointers.
While crime rates are generally low, it's always better to play it safe. Use common sense, like not leaving your belongings unattended or flashing expensive items. In the off-chance you find yourself in a pickle, don't hesitate in asking a local or getting in touch with the nearest police station – they're more than willing to lend a helping hand.
Speaking of safety, make sure to carry some form of identification with you at all times. Your passport is a foolproof option, but a photocopy will also suffice. It's just a precautionary measure in case local officials request to verify your identity.
And there you have it, my fellow gurus of wanderlust. Follow these tips, soak in the ethereal beauty of Amanohashidate, and most importantly, have a divine experience in this Japanese paradise. Happy travels!
Frequently Asked Questions about Amanohashidate
Is Amanohashidate worth visiting?
Absolutely! Amanohashidate, also known as "The Bridge to Heaven," is one of Japan's three most scenic views, alongside Miyajima and Matsushima. This stunning, three-kilometer-long sandbar is lined with lush pine trees and, believe it or not, it's said that this enchanting landscape could be the link between heaven and earth. So, it's an understatement to say that Amanohashidate is worth visiting; it's a must-see destination for anyone exploring Japan.
How much time should I spend in Amanohashidate?
I'd say that one full day is enough to take in the beauty and attractions that Amanohashidate has to offer. Start your day by strolling or biking along the sandy pathway, stopping to dip your toes in the refreshing water. Make sure to visit the two observation decks, Amanohashidate View Land and Kasamatsu Park, where you can admire the sandbar from up high – just don't forget to try out the traditional "matanozoki" pose (bending over and looking through your legs) for the best experience!
If time allows, you could also explore the nearby temples and shrines, like Chionji Temple and Motoise Kono Shrine, before finishing your day with a soak in one of the local hot spring baths. Trust me – it's the perfect way to unwind after a day of sightseeing.
Are there any entrance fees to the attractions?
Well, some attractions do have entrance fees, such as Amanohashidate View Land and the nearby hot spring baths. The fee for accessing Amanohashidate View Land is ¥850 for adults and ¥450 for children, which includes a round-trip ticket for the chairlift or cable car. But hey, don't let that deter you – the panoramic views of the sandbar are worth every yen!
As for the temples and shrines, they're usually free to enter, although donations are always appreciated. So, you can save some bucks and still enjoy the spiritual side of Amanohashidate.
Is it necessary to book accommodations in advance?
It depends on when you plan to visit Amanohashidate. During the peak seasons (spring and autumn), I'd definitely recommend booking your accommodations in advance, as this gorgeous destination attracts a good amount of tourists. On the other hand, if you're visiting during off-peak seasons, you might be able to snag a room without any problems. But hey, better safe than sorry, right? I'd book in advance just to have peace of mind.
Are there any guided tours available?
You bet there are! While you can certainly explore Amanohashidate on your own, joining a guided tour will provide you with valuable insights into the area's history, culture, and significance. Several tour companies offer both private and group tours, tailored to various interests and languages. So, if you'd like to dive deeper into the Amanohashidate experience, hopping on a guided tour might be just the ticket!