Bridgman's Annual Events and Festivals: Embracing Community Spirit
Lake Street Eats
Who doesn't love food, am I right? Well, the folks in Bridgman sure do! Lake Street Eats, taking place every summer, is a delightful food truck festival that showcases the best local grub. It's a gastronome's heaven, attracting people from all over, eager to taste mouthwatering treats from these mobile culinary wizards.
Bridgman Community Art Fair
Creativity abounds when the Bridgman Community Art Fair rolls around. And it's not just art lovers who flock to this event. With talented artists displaying and selling their masterpieces, there's no better place to find that perfect painting or sculpture to adorn your home. Plus, plenty of fun activities, workshops, and live entertainment keep the vibe alive, making it enjoyable for the whole family.
Weko Beach Brewers and Vintners Festival
If you're a fan of fine wines and craft beers, this is the festival for you! Just picture yourself strolling along the scenic Weko Beach, sampling local breweries' and wineries' finest offerings and raising a toast with friends and family. It's the perfect recipe for a fabulous day out while supporting local businesses.
Light up the Night: Bridgman Holiday Celebration
It's the most wonderful time of the year! And the Bridgman community goes all out to ensure the holidays are positively magical. Light up the Night is a festive holiday extravaganza, complete with a dazzling tree lighting ceremony, festive tunes, tasty treats, and even a visit from the jolly ol' elf himself! So bundle up, bring the kids, and soak up the yuletide cheer at this enchanting event.
In a nutshell, Bridgman's annual events and festivals are not only a testament to the community's vibrant spirit but also a fantastic way to bring people together year after year. So, why not join in the fun and make memories that'll last a lifetime?
Weko Beach Brewers Festival
Craft beers and ciders from local breweries
Bridgman's Weko Beach Brewers Festival is a celebration of the local community's love for excellent craft beer and cider. With a lineup that features some of the finest local breweries and cideries, you're sure to discover new and exciting flavors with each and every sip. There's something for everyone, from hoppy IPAs to crisp and refreshing ciders. So, bottoms up, and here's to good times with great company!
Live music and entertainment
As if sampling delicious brews wasn't enough, the Weko Beach Brewers Festival also offers the perfect soundtrack to your day. With live music performances from local bands, you'll find yourself tapping your feet and nodding your head to the beat as you enjoy the festivities. Keep your eyes peeled for other forms of entertainment throughout the festival, ensuring there's never a dull moment!
Food trucks and tasty treats
What's a festival without mouth-watering food to fuel your fun? A variety of food trucks and vendors will be on-site, serving up scrumptious bites to satisfy all your cravings. From juicy burgers to decadent desserts, there's something to tantalize every taste bud.
Weko Beach location and views
Weko Beach offers festival-goers a stunning backdrop to the day's events. Take a break from the bustling festival atmosphere to stroll along the sandy shores, dip your toes in the water, or simply relax and enjoy the spectacular views of Lake Michigan.
Event details, ticket prices, and parking
The annual Weko Beach Brewers Festival typically takes place on a Saturday in late spring or early summer. Ticket prices usually include access to the festival, live music, and a commemorative tasting glass. On-site parking is available, but walking, biking, or carpooling is encouraged to minimize congestion. Keep an eye out for updated event information on websites and social media pages every year.
Bridgman Little League Opening Day Parade
Celebrating youth sports in the community
Ah, there's nothing like the excitement of the Bridgman Little League Opening Day Parade to remind us all of the joys of youth sports in our lovely community. It's a fantastic way to kick off the season, and we can't help but be swept up in the enthusiasm!
Annual parade for Bridgman Little League
Taking place every year, this delightful parade showcases the young talent in our community. Residents line the streets to cheer on their favorite little sluggers, enjoying a true display of Bridgman pride.
Bridgman Little League's commitment to sportsmanship
One of the event's best features is the emphasis on sportsmanship. You'll see it everywhere – on banners, float decorations, and even in the parade participants themselves. What a great message to instill in our young athletes!
Participation, unity, and family-friendly aspects
The parade isn't just about the players – it celebrates each and every one of us! From coaches to volunteers, spectators to local business owners – everyone comes together to show their support. Plus, it's a fantastic way to spend a day out with the family.
How to get involved in Bridgman Little League
So, are you itching to be a part of the action? Whether it's registering your child to play, signing up to coach or volunteering in countless other roles, there are plenty of opportunities for involvement. Just head on over to the Bridgman Little League website for all the info you'll need.
All in all, the Bridgman Little League Opening Day Parade is a true testament to our community spirit – let's keep that enthusiasm going all season long!
Bridgman Summer Concert Series
Weekly outdoor concerts for the community
Bridgman's Summer Concert Series is a fantastic way to spend your summer evenings, offering free weekly outdoor concerts that bring the community together to enjoy a variety of musical styles. From toe-tapping blues to energetic rock, there's something for everyone in the family!
Styles of music and featured artists
Throughout the series, you'll have the chance to experience different types of tunes played by talented local bands and musicians. In the past, the concert line-up has included artists like blues extraordinaire Slim Gypsie and the rockin' Rye Belles.
Bringing the community together through music
What better way to unite a community than through the universal language of music? The Summer Concert Series strengthens town spirit, gives both residents and visitors the opportunity to interact, and fosters a sense of belonging. It's really a win-win for everyone involved!
Family-friendly atmosphere and activities
These concerts aren't just for the adults, though! Kids are more than welcome to join in the fun as well. With plenty of activities like face painting, ice cream stands, and more, it's an enjoyable event for the whole family. So grab a blanket, pack a picnic, and get ready to boogie down with your neighbors.
Location and dates for the concert series
Bridgman's Summer Concert Series typically runs from June to August, with concerts held every week. Just head over to the charming venue located in downtown Bridgman and let the magic of music sweep you away. Keep an eye on the city's event calendar for specific dates and times.
Bridgman Farmers' Market
Weekly community market during the summer
Bridgman's annual Farmers' Market is the perfect place to be on a sunny summer day. With an opening at the beginning of June and lasting until the end of September, it's a weekly event that the whole community looks forward to. What better time to hang out with friends, family, and neighbors while shopping for fresh and delicious goodies?
Fresh produce, artisan goods, and more
At the Farmers' Market, folks can find a marvelous variety of fresh and locally-grown produce. We're talking juicy tomatoes, crisp lettuce, and sweet corn on the cob! And that's not all – there are also artisan goods and handcrafted items like soaps, candles, and even homemade jams and jellies.
Supporting local farmers and businesses
By attending the Bridgman Farmers' Market, you're not only getting a chance to purchase fresh and local goods, but you're also supporting local farmers and businesses. When you buy from them, you're directly helping them grow and thrive in our community.
Family-friendly experiences at the market
The Bridgman Farmers' Market is truly a family-friendly affair. There's always something fun and engaging for the little ones to do, such as face painting and craft activities. And let's not forget the scrumptious food trucks that serve mouth-watering treats!
Dates and location for the Bridgman Farmers' Market
So, mark your calendars and don't miss out on this fantastic community event. The Market typically happens every Sunday from early June through late September, from 9 am to 2 pm. It's conveniently located at 4509 Lake Street, Bridgman. See you there!
Independence Day Fireworks Celebration
Bridgman's Tradition of Patriotic Celebration
Every summer, Bridgman comes together to celebrate Independence Day in a big way. The community's strong spirit and appreciation for American history and freedom are on full display during this cherished annual event.
Spectacular Fireworks Display Over Lake Michigan
The main attraction, of course, is the dazzling fireworks display over the gorgeous Lake Michigan. It's a sight to behold as the vibrant colors and booming sounds fill the night sky, perfectly complemented by the peaceful natural backdrop. Folks from all around the area gather to enjoy this fantastic (and free!) sky show.
Family-Friendly Event and Activities
But the fun doesn't stop at the fireworks. In true Bridgman fashion, this event is made for the entire family. Throughout the afternoon, there are plenty of activities and attractions to keep the little ones entertained, whether it's face painting, games, or delicious food from local vendors. And, let's not forget the opportunity to take a leisurely stroll along beautiful Lake Michigan's shore.
Community Pride and Appreciation for Service Members
This event is also an opportunity for Bridgman to show its gratitude for the brave service members who protect our freedoms. The community comes together to honor them, and the fireworks display is a symbol of that unity and appreciation.
Details on the Fireworks Display and Location
The Independence Day Fireworks Celebration is typically held at Weko Beach, giving visitors the perfect vantage point to enjoy the show. Don't miss out on this unforgettable experience – make sure to stake out a spot early, gather some cozy blankets, and get ready to marvel at the spectacular display.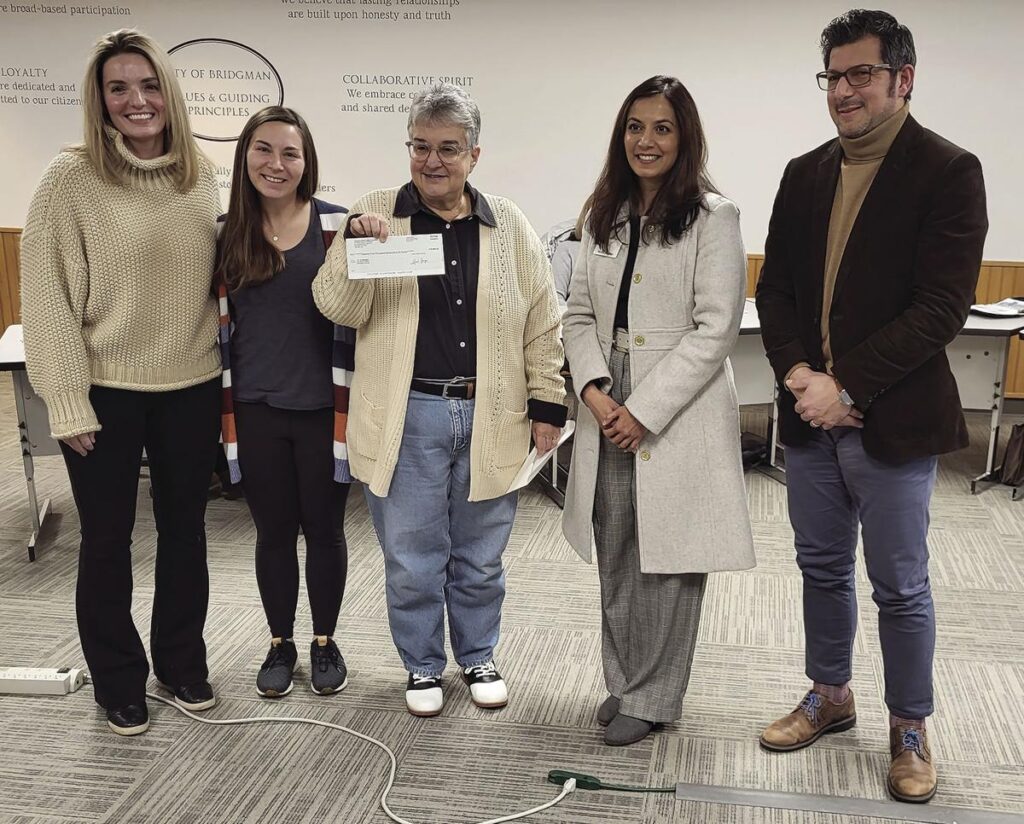 Bridgman Area Christmas Celebration
Traditional tree lighting ceremony
It's beginning to look a lot like Christmas! In Bridgman, one of the most beloved annual events is the Area Christmas Celebration. The community gathers for a heartwarming tree lighting ceremony, where they countdown together and light up their beautiful tree with twinkling lights and ornaments. Oh, what fun it is to watch the tree sparkle under the wintery night sky!
Parade featuring Santa Claus and community members
Hold your horses (and reindeer) – Santa Claus is coming to town! Each year, Bridgman hosts a festive parade featuring none other than Mr. Claus himself. This merry procession also includes local community members, showing their holiday spirit in fun and creative ways. So, bundle up, grab a cup of hot cocoa, and join your neighbors to enjoy this wondrous sight!
Holiday shopping and festivities in the city
After the parade, folks stroll through town, checking out the various holiday vendors and unique shops. You might find that perfect gift or even indulge in some scrumptious holiday treats – think sugar, spice, and everything nice!
Embracing the spirit of giving and community unity
The Bridgman Area Christmas Celebration is all about bringing people together to celebrate the season and embrace the spirit of giving. Neighbors meet, friends reunite, and new connections are made while everyone supports local businesses and community endeavors.
Event details and how to get involved
Ready to join in the festivities? Keep an eye on the local paper, city website, and social media pages for upcoming event details and how you can get involved. Don't miss out on this special occasion to embrace community spirit and spread a little holiday cheer – it's truly the most wonderful time of the year in Bridgman!
Lake2-Bay Grape Escape
A day of food, wine, and adventure
What's better than a day spent indulging in scrumptious food, sipping fine wines, and soaking up stunning views? Not much, if you ask us! Bridgman's annual Lake2-Bay Grape Escape offers just that, providing the perfect opportunity to embrace the community spirit and experience everything the region has to offer.
Exploring the beautiful vineyards of the region
As part of this highly anticipated event, attendees have the chance to meander through gorgeous vineyards while sampling delicious wines from local wineries. And let's not forget the mouth-watering food offerings prepared by talented chefs, who put their heart and soul into creating culinary masterpieces that'll leave you craving more.
Details on tickets and participating wineries
So, how does one partake in this food and wine lover's paradise? Tickets go on sale ahead of the event, with various package options available to suit everyone's needs and budget. Keep an eye on the official Lake2-Bay Grape Escape website for the most up-to-date information on participating wineries and ticket sales.
Transportation and safety information
Now, let's talk transportation, because safety is of the utmost importance, folks! Event organizers provide shuttle services to ensure responsible wine enthusiasts can fully enjoy their day without worrying about getting behind the wheel. Just remember to plan ahead and book your spot on the shuttle, as spaces tend to fill up quickly.
So, for a day packed with fun, laughter, and, of course, plenty of great food and wine, be sure not to miss Bridgman's annual Lake2-Bay Grape Escape. Cheers to that!
Bridgman Halloween Spooktacular
Family-friendly Halloween event in Bridgman
Boo! It's that time of year again when ghouls and ghosts roam the streets of Bridgman. The annual Bridgman Halloween Spooktacular is the go-to family-friendly event to show off those spooktacular costumes and have a frightfully good time.
Trick-or-treat activities and costume contest
Kids of all ages are in for a treat with a plethora of trick-or-treating activities and goodies galore. Don't forget to dress up in your spookiest, most creative outfits for the highly anticipated costume contest. And remember, the sky's the limit with your imagination.
Haunted house, games, and entertainment
Beyond the treats and costumes, prepare to get your scare on in the eerie haunted house. But that's not all – get ready for games, entertainment, and maybe even some hair-raising surprises along the way. It's all about embracing the spirit of Halloween!
Community support and businesses involvement
You betcha, it's not just the residents who get in the spooky spirit. Local businesses and organizations band together to create an unforgettable experience for everyone. So forget the tricks and enjoy the treats of community spirit and togetherness at this fang-tastic event!
Details on location, time, and participation
Now, surely you don't want to miss out on all the spooky fun, right? The Bridgman Halloween Spooktacular typically takes place in downtown Bridgman. The town will provide further details on the exact location, date, and time as the event approaches. So keep your eyes peeled, mark your calendars, and we'll see you there for a spooktacular time!
Community Garden and Beautification Projects
Bridgman community's efforts in gardening
Nestled in the heart of Bridgman, community gardens are blooming with life, showcasing the town's commitment to fostering a sense of unity. These gardens serve as a testament to the locals' love for nature, and their collective efforts to nurture the environment.
Improving the appearance of public spaces
One of the main goals of these projects is to enhance the visual appeal of public spaces in the city, making them inviting and pleasant for both locals and visitors. By planting flowers, trees, and shrubs, as well as maintaining landscapes, the town ensures a picturesque setting for everyone to enjoy.
Involvement opportunities for residents
Bridgman takes pride in providing opportunities for its residents to play an active role in these projects. Through volunteer work, locals can contribute to the beautification and maintenance of public spaces. It's a win-win situation – folks get to socialize with their neighbors while making a positive impact on their community.
Benefits of community gardens and beautification efforts
The rich rewards of participating in community garden and beautification projects extend far beyond fresh produce and vibrant foliage. These initiatives promote community spirit, encourage a sense of pride, and foster social connections among residents.
Highlighting successful projects in Bridgman
But don't just take our word for it – the extraordinary results speak for themselves. From the charming flower beds gracing town entrances to the lush gardens teeming with fruits and vegetables, the inspired efforts of Bridgman locals are paving the way for a thriving, cohesive community.
Frequently Asked Questions
What are the dates and times of Bridgman's annual events?
Hold onto your hats, folks! Bridgman takes pride in hosting a variety of annual events throughout the year, from the Beacher Bash in summer to the magical Tree Lighting Ceremony in winter. Unfortunately, it's impossible to cover all the dates and times here, but a great place to stay informed about all that's happening is the Bridgman Chamber of Commerce website. You can trust they'll have their finger on the pulse!
How can I get involved in Bridgman community activities?
Community involvement? You bet! There are numerous opportunities for folks to get in on the action, from volunteering at events to joining local clubs or committees. To find out more about how you can lend a helping hand, reach out to the event organizers or the Bridgman Chamber of Commerce.
Are the events in Bridgman family-friendly?
Absolutely! Bridgman's community events are designed with families in mind, and there's something for everyone to enjoy. So grab the kids and the grandparents, and join in the fun!
Where can I find more information about a specific Bridgman event?
No worries! Bridgman event organizers make sure to keep the Chamber of Commerce website chock-full of details, dates, and times. But hey, if you still can't find what you're looking for, feel free to get in touch with the Bridgman Chamber of Commerce directly, and they'll be happy to point you in the right direction.
How can I support the local businesses participating in these events?
Supporting local businesses is a piece of cake! Look for information about vendors and business sponsors on event materials, websites, or social media posts. Then, when you attend these events, keep an eye out for those businesses' booths or tents—take some time to chat with them, make a purchase, or simply offer a kind word or two. Trust us; your support goes a long way!