Exploring Senshu Park
A brief history of Senshu Park
Nestled in the heart of Akita City, Senshu Park stands as a testament to the history of the city and its people. Originally the site of Kubota Castle, built by the powerful Satake clan, the park has seen its fair share of battles and changing allegiances throughout the centuries. Eventually, after the Meiji Restoration in the late 19th century, the castle's fortifications were dismantled, and the area was transformed into the peaceful, verdant sanctuary it is today. A perfect place to unwind and absorb the history of the region, Senshu Park has become a crucial part of local culture and a haven for nature lovers.
Location and getting to Senshu Park
So, you're probably wondering, "Where's this lovely park located, and how do I reach it?" Senshu Park is situated in the middle of Akita City, making it a relatively easy place to access. Start by taking the JR Akita Shinkansen to JR Akita Station. Once there, you'll have a couple of options to reach the park. The most popular and convenient method is to take a short, 15-minute walk from the station. You'll find the park nestled right between several lovely shopping streets and traditional neighborhoods. Alternatively, if you prefer, taxis are readily available at the station and can whisk you directly to the park's entrance.
Hours of operation for Senshu Park
Senshu Park is open year-round, making it a fantastic destination no matter when you visit Akita. The park itself doesn't have specific opening and closing hours, but many of the attractions and facilities inside the park do. For example, the Akita City Folk Traditions Hall, housed inside a beautifully restored samurai residence, is open from 9:00 am to 5:00 pm.
Another must-visit attraction within the park is the Osumiyagura Turret, a meticulously reconstructed tower that once formed part of Kubota Castle's defenses. Here, you can take in panoramic views of the surrounding park and Akita City. This iconic tower is open from 9:00 am to 4:30 pm.
Entry fees and ticket information
One of the best things about Senshu Park is that entry to the park itself is totally free! You can stroll through the beautifully landscaped grounds, take in the various monuments, and snap pictures of the resident adorable swans without spending a single yen. However, please note that some attractions within the park, such as the Osumiyagura Turret and Akita City Folk Traditions Hall, have nominal entrance fees of 100 yen each for adults and 50 yen for children.
So, what are you waiting for? Get ready to immerse yourself in the captivating history and lush natural beauty of Akita's Senshu Park – you won't be disappointed!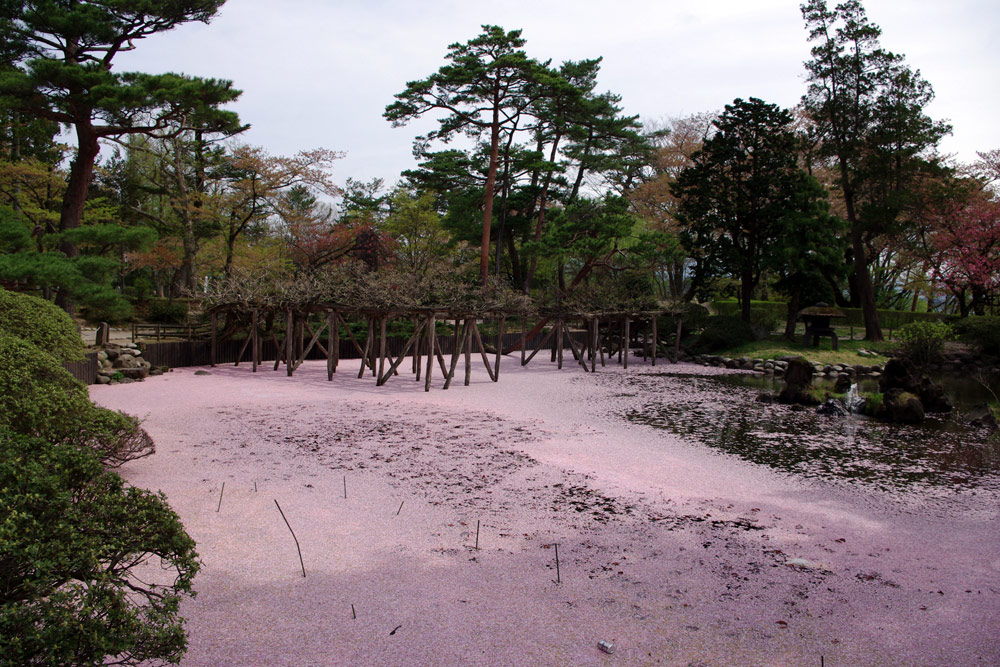 Attractions within Senshu Park
Senshu Park, located in Akita City, Akita Prefecture, is a beautiful gem offering its visitors a unique blend of history, nature, and spirituality. In this post, we'll explore the various attractions that make Senshu Park a must-visit destination in Japan.
The stunning Omonogawa River
At the heart of Senshu Park lies the picturesque Omonogawa River, which gracefully meanders its way through the verdant surroundings. A real treat for the senses, the river's sights and sounds provide visitors with an enchanting, tranquil atmosphere.
Kubota Castle ruins and history
Senshu Park was once the site of Kubota Castle, home to the powerful Satake clan. Today, visitors can explore the castle's remains, which include stone walls and a moat. There's also a museum on-site where you can learn about the castle's history and the samurai who once resided there.
Omuko Turret and white-walled storehouse
One of the park's highlights is the restored Omuko Turret, which symbolizes the entrance into Senshu Park. This 18th-century structure, made from white mortar and contrasting with the lush greenery, is an imposing and majestic sight. Nearby, a traditional white-walled storehouse provides visitors with a glimpse of Japan's architectural past.
Statue of Lord Satake and its significance
As you meander through Senshu Park, you'll come across a statue of Lord Satake, the first lord of the Akita Domain who was responsible for building Kubota Castle. This striking statue serves as a reminder of the park's rich historical and cultural significance.
Kabushima Shrine, a spiritual spot
Nestled among the park's greenery is the Kabushima Shrine, which is dedicated to the Shinto deity of safe sea travel. This spiritual site attracts both tourists and locals who come to pray and pay their respects. It's the perfect spot for anyone seeking a peaceful and reflective atmosphere.
Momotaro Pond and its unique features
Another feature of Senshu Park is Momotaro Pond, a lovely body of water where you can spot koi fish and turtles. Have a leisurely stroll around the pond or enjoy the sight of water flowing over a charming stone bridge. Whether you're a nature lover or a photographer, this area offers rich imagery to be appreciated.
Various seasonal flowers and plants
Senshu Park is an ever-changing canvas throughout the year as different flowers and foliage bloom with each season. From the pink cherry blossoms in spring to the fiery red maple leaves in autumn, the park's vibrant flora ensures there's always something to catch your eye.
Senshu Park's relaxing green spaces
Last but not least, one of the park's simplest yet most appealing features is its abundance of green spaces. Senshu Park offers its visitors grassy lawns and shaded areas where they can relax, enjoy picnics, or simply take some time out from their day. It's a real haven of serenity in the city.
In conclusion, a visit to Senshu Park in Akita Prefecture is a rewarding experience, as it effortlessly combines history, nature, and spirituality into one picturesque package. If you're planning a trip to Japan, be sure to add this incredible gem to your itinerary.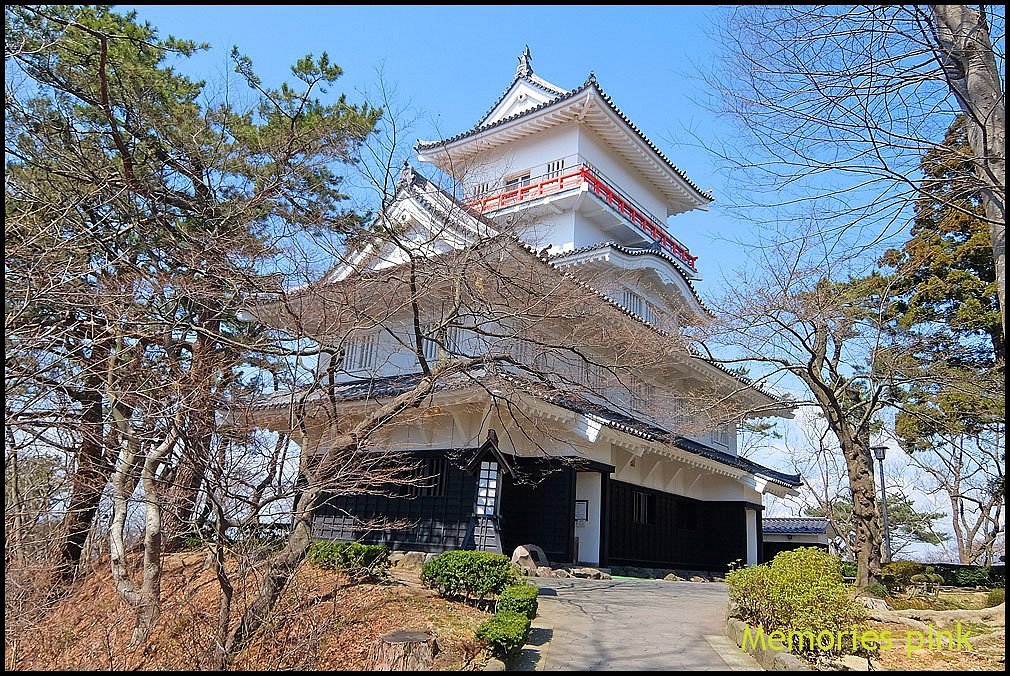 Activities to Enjoy in Senshu Park
Nestled in the heart of Akita Prefecture, Senshu Park offers a wide range of activities and serene spots for the weary traveler to take a well-deserved break. From guided tours to relaxing boat rides, the park has something for everyone. So, without further ado, let's dive into some of the fantastic activities you can enjoy at Senshu Park!
Participating in Guided Tours
If it's your first time visiting Senshu Park, or if you're just a history buff, signing up for a guided tour can be an enriching experience. Knowledgeable guides will walk you through the park, unfolding its history and pointing out the various cultural landmarks. For instance, you'll learn about the park's origins as the site of Kubota Castle, which dates back to the 17th century. Trust us, it's a history lesson you won't soon forget!
Joining a Traditional Tea Ceremony
Next up, why not immerse yourself in a traditional Japanese tea ceremony? Senshu Park is home to the Seiryuken teahouse, where such ceremonies are held regularly. The elegant ritual of preparing, serving, and drinking tea has been an essential part of Japanese culture for centuries. By participating in a tea ceremony, you'll be able to experience a slice of authentic Japan while also enjoying some delicious brews. What are you waiting for? Grab your tea-loving pals and head on over!
Trying Out the Park's Rowboats
Looking for a bit of adventure? Senshu Park offers cute little rowboats you can rent to explore its lovely pond, a particularly popular activity during spring and autumn. Allow yourself to soak up the scenic beauty of the park as you paddle past vibrant flowers or colorful foliage. It's a perfect way to unwind and enjoy nature at your own pace. Added bonus: It's also a fantastic opportunity for some Instagram-worthy shots!
Capture Photos of the Picturesque Spots
Speaking of photos, Senshu Park is a veritable treasure trove of picturesque spots that'll make your Instagram feed sing! From the stone bridges to the majestic trees and the stunning Japanese gardens, there is no shortage of beautiful scenery to capture. And if you happen to visit during cherry blossom season, be prepared to be utterly enchanted by the ethereal beauty of sakura trees.
Exploring the Senshu Park Scenic Walking Trails
Last but certainly not least, Senshu Park boasts several wonderful walking trails that allow you to explore its natural beauty at leisure. Take a leisurely stroll beneath the majestic trees, amble past elegant ponds, and gaze upon the beautiful vistas surrounding the park. Feeling a little more adventurous? Take a jaunt along the trails leading to the park's observation deck, where you can soak in stunning panoramic views of Akita City. Whatever path you choose, you're in for an invigorating and rejuvenating experience.
Missing out on Senshu Park would be a real shame, folks! So, pack your bags, lace up your walking shoes, and hit the road to Akita Prefecture for a visit you won't soon forget!
Experiencing Senshu Park in different seasons
Senshu Park, located in the heart of Akita City in Akita Prefecture, is a stunning public park with a rich history and gorgeous natural landscapes. This gem offers visitors a unique experience throughout the year, with each season bringing its own set of breathtaking sights and activities.
Springtime cherry blossoms and festivals
Spring is a magical time in Senshu Park, as its beautiful cherry blossom trees come to life with pale pink blossoms. Visitors from all around gather to partake in the centuries-old Japanese tradition of hanami or cherry blossom viewing. Strolling beneath the blossoming sakura trees, guests will feel as though they've been transported to a world of delicate beauty.
During this time, the park hosts various events, such as the Akita-Senshu Park Cherry Blossom Festival. This celebration features live performances, food stalls, and even nighttime illuminations, providing a mesmerizing backdrop for your hanami experience.
Summer flowers and water activities
As summer rolls in, Senshu Park transforms into a vibrant paradise of flowers, with a stunning variety of seasonal blooms, such as irises, azaleas, and hydrangeas. The park's water features, including waterways and fountains, offer a refreshing respite from the summer heat.
Visitors can also participate in water activities, like boat rides, which provide a unique and enjoyable perspective of Senshu Park's beauty. Adding to the summer charm, you'll find quaint cafes and tea shops in the park, where you can unwind and indulge in delightful refreshments while soaking in the picturesque surroundings.
Admiring autumn foliage and seasonal events
Autumn is arguably the most spectacular season in Senshu Park when the trees burst into fiery hues of red, orange, and yellow. These vibrant fall colors provide a stunning contrast against the park's traditional structures, such as the reconstructed Akita Castle, which houses the Akita Museum of Art.
During the autumn season, the park also hosts several events and festivals that showcase Akita Prefecture's rich cultural heritage. The Akita Kanto Festival, for example, celebrates the region's bountiful harvests with traditional music, dances, and parades.
Winter snowscapes and illuminated pathways
Winter in Senshu Park is nothing short of magical. With a blanket of soft snow covering the park's landscapes, visitors can marvel at the serene beauty of this winter wonderland. The snow-covered trees and traditional structures, like the Osumiyagura turret and Kubota Castle, create storybook-worthy scenes that will enchant and inspire guests.
To further enhance the winter experience, Senshu Park hosts illuminations that light up the pathways and special limited-time events, such as ice carving exhibitions. There's something undeniably special about wandering through the park's glowing, snow-covered paths, making it a memorable experience to round out the year.
All in all, Senshu Park's ever-changing landscapes and events make it a must-visit destination in Akita Prefecture, no matter the season. So, pack your bags, grab your camera, and embark on an unforgettable adventure exploring this captivating park!
Nearby attractions in Akita Prefecture
Nestled in Japan's northern region, Akita Prefecture boasts diverse attractions and breathtaking beauty that'll leave you in awe of its enchanting scenery. One such gem is Senshu Park, offering a tranquil escape and cultural experience. But of course, don't just stop there! The surrounding area features other must-visit destinations to learn and immerse yourself in the history and culture of Akita. Let's explore them in more depth, shall we?
Akita City Folk Traditions Hall
Just a stone's throw away from Senshu Park, Akita City Folk Traditions Hall, or "Akita Furusato Mura," showcases the rich culture and local customs of Akita. This interactive museum is designed like an Akita village from the Edo period, complete with thatched-roof houses and friendly staff dressed in traditional attire. You'll feel like you've transported back in time while walking through the park, witnessing traditional crafts, performances, and food. Talk about a blast from the past!
Akita Museum of Art
Art aficionados, listen up! A visit to the Akita Museum of Art, designed by the renowned architect Tadao Ando, is nothing short of remarkable. The museum showcases an impressive collection of artwork, including pieces by Tsuguharu Fujita, a prominent Japanese-French artist. The museum's modern design is a visual masterpiece in itself, seamlessly blending art and architecture. Trust us, it's a feast for the eyes, and you won't want to miss it.
Kubota Castle
If you're fascinated by Japanese history and architecture, then Kubota Castle is right up your alley! Once the residence of the Satake Clan in the 17th-century, this castle-turned-park has been restored to its former glory. As you stroll through the lush, serene grounds, you'll discover historical relics and monuments, including a restored watchtower. The Osumiyagura turret offers splendid views of the city, and believe us when we say, it'll make you feel on top of the world.
Seitai Hoshikai – Handmaids of the Eucharist
For a truly unique experience, pay a visit to the Seitai Hoshikai – Handmaids of the Eucharist. Located near Senshu Park, this active convent is home to numerous nuns dedicated to a life of prayer and service. The convent's idyllic surroundings create a sense of tranquility, with the adjacent Seitai Hoshikai Museum displaying various artworks that hold significant religious value. It's a one-of-a-kind opportunity you won't want to pass up.
Akita Akarengakan, the Red Brick Folk Museum
Last but certainly not least, make your way to the Akita Akarengakan (Red Brick Folk Museum) – a distinctive redbrick building that once housed the Bank of Akita. Inside, you'll find engaging exhibits on the history of Akita, giving you a deeper understanding of the region's development and notable events throughout time. With its captivating architecture and fascinating displays, it's the perfect place to wrap up your Akita adventure.
Now you have it – a list of amazing attractions just waiting for you to discover near Senshu Park in Akita Prefecture! Grab your camera, pack your bags, and let the thrill of exploration sweep you off your feet. Trust us, the memories you create will be worth cherishing for a lifetime.
Where to eat around Senshu Park
After exploring the beautiful sights and attractions of Senshu Park, you're probably going to need a bite to eat. Thankfully, the area around the park offers plenty of options for indulging in the delicious local cuisine of Akita Prefecture. Let's take a look at some of the must-try dishes and top spots to grab a bite in and around Senshu Park.
Local cuisine to try in Akita Prefecture
When visiting Akita Prefecture, there are a few local specialties you definitely don't want to miss out on. Here are some dishes to keep an eye out for:
Kiritanpo: A popular comfort food in Akita, Kiritanpo is made from pounded rice shaped into cylinders and grilled over an open flame. These tasty treats are often enjoyed with a hot pot of chicken and vegetables, known as Kiritanpo Nabe.
Inaniwa Udon: These thin, silky-smooth udon noodles are a regional favorite. Served cold with a dipping sauce or hot in a soup, Inaniwa Udon is sure to please any noodle lover.
Hatahata: As the regional fish of Akita, Hatahata can be prepared in numerous ways—salted and grilled, deep-fried, or simmered in soy sauce, just to name a few.
Babahera Ice Cream: This uniquely shaped ice cream treat features swirls of strawberry and melon flavors, resembling a rose. A perfect sweet treat to enjoy while strolling around Senshu Park!
Top restaurants near Senshu Park
In the mood for a sit-down meal? Here are some of the best restaurants around Senshu Park that serve local Akita cuisine:
Ishii: For a delicious taste of Inaniwa Udon and other local dishes, Ishii is the place to go. With its warm atmosphere and friendly staff, you'll feel right at home while savoring a delectable meal.
Hinaiya: Known for their Kiritanpo Nabe, Hinaiya is a must-visit for those wanting to try this local hotpot dish. It's a cozy spot to unwind and enjoy a fantastic meal after a day of exploring.
Akita Bisaikan: If you're craving a taste of Hatahata, Akita Bisaikan is the perfect spot. They serve the regional fish in a variety of ways, giving you plenty of options to enjoy this local favorite.
Street food and stalls around the park
Sometimes, grabbing a quick bite from a stall or street food vendor is the best way to enjoy local cuisine. Here are some great options to check out near Senshu Park:
Nakajima Fruit Shop: Stop by this shop for a refreshing taste of local fruit or enjoy one of their famous Babahera ice creams.
Kiritanpo Alley: This street food haven dedicated to Kiritanpo offers visitors the chance to watch the delicacy being made and try it fresh off the grill.
Cafes and tea houses with park views
Finally, if you're looking for a peaceful spot to take in some Senshu Park views and enjoy a cup of tea or coffee, give these cafes and tea houses a try:
Kourakukan Cafe: With its prime location facing Senshu Park, this charming cafe is the perfect place to relax with a cup of coffee or a dessert while taking in the beautiful surroundings.
Kubota-tei: A traditional Japanese tea house located within the park, Kubota-tei offers a serene atmosphere to enjoy a hot cup of tea and some sweet treats.
No matter your culinary preference, there's something for everyone in and around Senshu Park. So, next time you find yourself wandering through the beautiful park grounds, be sure to indulge in the local cuisine and dining experiences that Akita Prefecture has to offer.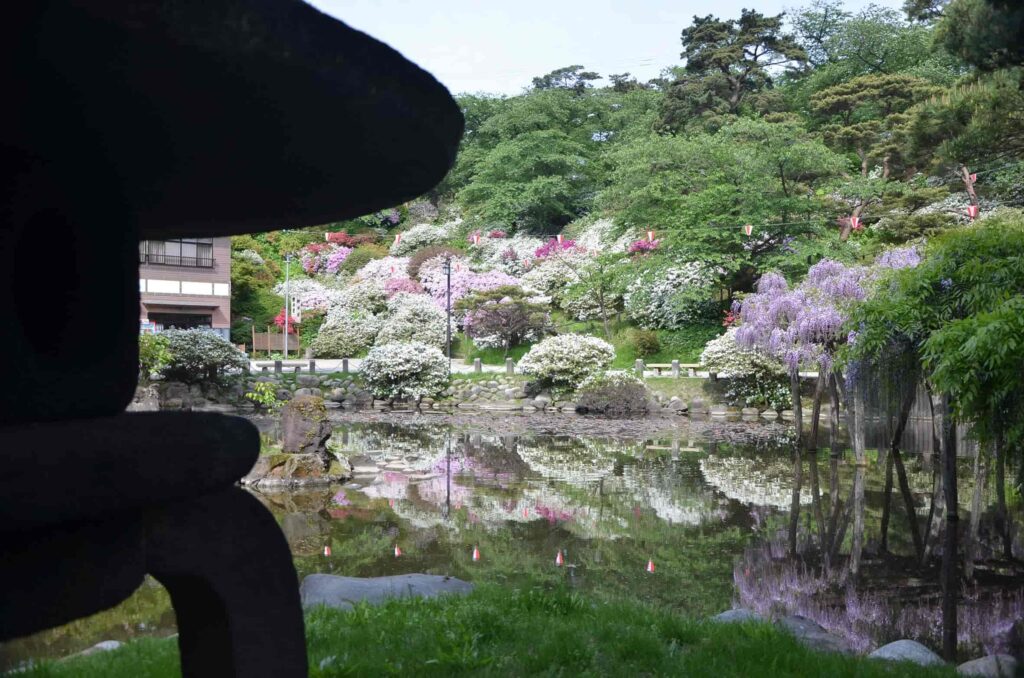 Accommodations near Senshu Park
While visiting Senshu Park, also known as the "gem" of Akita Prefecture, you'll need a comfortable and convenient place to stay. Luckily, there are plenty of accommodations nearby for every budget and travel style. Check out our suggestions for luxury hotels, budget-friendly options, and traditional Japanese inns (Ryokan) for an immersive experience.
Luxury hotels in Akita Prefecture
For those who don't mind splurging on their vacation, there are several luxury hotels situated in close proximity to Senshu Park. The Richmond Hotel Akita is a popular choice for its contemporary design and top-notch amenities. Here, you can expect a restful night's sleep in a spacious guest room with plush bedding and enjoy a delicious buffet breakfast before starting your day.
If you prefer international hotel chains, the ANA Crowne Plaza is another excellent choice. This high-end hotel features various room options, a fitness center, and upscale dining establishments. Plus, it's just a short walk away from the park, putting you right in the heart of the action.
Budget-friendly options for travelers
On the other hand, if you're traveling on a budget, don't worry—we've got you covered too! There's a variety of affordable accommodations available near Senshu Park, allowing you to save your hard-earned cash for your adventures.
Consider checking out a local guesthouse, such as Guesthouse Kami, which offers dormitory-style rooms and a friendly, homely atmosphere. Another great option is the Route Inn Grantia, a reliable budget hotel chain featuring comfortable rooms and complimentary breakfast. Both of these establishments are within walking distance to Senshu Park.
Traditional Japanese inns (Ryokan) to experience
Lastly, if you're yearning for an authentic Japanese experience, why not stay in a traditional Ryokan? Ryokans are Japanese-style inns that provide a cultural immersion and often boast on-site hot spring baths, locally-sourced cuisine, and spectacular views.
Within the vicinity of Senshu Park, you can find the prestigious Senshuko Shintomitei for a Ryokan that blends modern amenities with traditional aesthetics. Enjoy a relaxing stay in a Japanese-style room with tatami mat floors, futon beds, and sliding paper doors. Before or after your visit to Senshu Park, indulge in the on-site hot spring baths—perfect for unwinding after a day of exploring.
Whether you're looking for a high-end hotel, a budget-friendly option, or a taste of authentic Japan, you'll find a plethora of accommodations awaiting you near Senshu Park. So, go ahead and start planning your visit to the "gem" of Akita Prefecture—we're sure you'll have a splendid time!
Frequently Asked Questions about Senshu Park
Is there an entrance fee for Senshu Park?
No, there isn't! Senshu Park is open to the public and absolutely free of charge. So go ahead, gather your friends and family, and explore this beautiful park without worrying about any entrance fees.
Are pets allowed in Senshu Park?
Yes, they are! Senshu Park welcomes furry friends, as long as they are kept on a leash. Remember to be a responsible pet owner by cleaning up after your pet and being mindful of other visitors who might be afraid of animals.
Is Senshu Park wheelchair accessible?
Indeed, it is! Senshu Park's paths are generally wide and flat, making it an ideal place for wheelchair users to enjoy the park's natural beauty. However, do note that some areas or attractions within the park might have steps or uneven surfaces, so it's always best to exercise caution and seek help from fellow park-goers if needed.
What are the best times to visit Senshu Park?
While Senshu Park is a beauty to behold all year round, every season brings its own unique charm to the park. In spring, visitors can marvel at the stunning cherry blossoms that adorn the park's pathways. For those who love vibrant colors, autumn is a feast for the eyes with the leaves changing into brilliant hues of red, orange, and yellow. Winter, on the other hand, transforms Senshu Park into a wonderland of snow and frost, making it a perfect spot for serene, snowy walks. Finally, summer offers lush greenery and the chance to witness the park's lively festivals and events.
Are there any special events at Senshu Park throughout the year?
You bet! Senshu Park plays host to various events and festivals throughout the year, making it an excellent destination for both locals and tourists. One of the most popular events is the Akita Kanto Festival, held in early August, where participants balance towering bamboo poles laden with lanterns. This spectacle is truly a sight to behold! In spring, the cherry blossom season brings with it "hanami" parties, where family and friends gather to picnic and appreciate the blossoms. The park also offers cultural events, local performances, and seasonal celebrations, so there's always something happening at Senshu Park!