Why Hozukyo Gorge: Reasons to Visit this Hidden Gem
Tucked away in the scenic countryside of Kyoto, Japan, lies the breathtaking Hozukyo Gorge. Aptly known as Japan's hidden gem, this stunning spot offers a perfect blend of natural beauty, rich history, and intriguing culture. In case you're still not entirely convinced, here are some reasons to visit Hozukyo Gorge and experience its unrivaled charm.
Spectacular Scenery of Hozukyo Gorge: Nature at Its Best
First and foremost, the jaw-dropping landscapes of Hozukyo Gorge are impossible to ignore. Steep cliffs, crystal-clear river waters, and untouched forests will leave you in awe as you traverse this natural paradise. The dazzling display of colors during the autumn months is an absolute must-see. Honestly, words can't do justice to the beauty of this place – you've got to see it to believe it!
Experience Japanese History and Culture in Hozukyo Gorge
Hozukyo Gorge is steeped in a rich history and traditional Japanese culture. You'll find ancient temples and shrines nestled among the verdant hills, some dating back over a thousand years. One of these, the atmospheric Atago Shrine, offers spectacular views of the surrounding landscape and is an essential stop on your visit. Don't miss the chance to dive into the area's fascinating past while exploring its awe-inspiring natural beauty.
Indulge in the Peaceful Atmosphere of Hozukyo Gorge
With much of today's world being bustling and fast-paced, a visit to Hozukyo Gorge offers a welcome respite from the chaos. Listen to the soothing sounds of the flowing Hozu River and let go of your worries. Immerse yourself in the serenity of the lush surroundings, where it feels like time stands still and you can genuinely connect with nature. Believe us when we say, there's no better way to recharge your batteries and find your inner Zen.
Ideal Destination for Outdoor Activities: Hiking, Rafting and More
If you're someone who loves adventure and outdoor pursuits, Hozukyo Gorge has got your back! The area's dense forests and rocky terrain provide the ideal setting for invigorating hikes or trail runs, allowing you to fully embrace the beauty of the Japanese countryside. For thrill-seekers, white-water rafting along the wild Hozu River is an unforgettable experience. What's not to love about a destination with equal measures of tranquility and excitement?
So, there you have it! A visit to the Hozukyo Gorge offers not only unbelievable natural beauty but also a chance to delve into Japan's rich history, immerse yourself in tranquility, and satisfy your adventurous spirit. If that's not the perfect recipe for an unforgettable trip, we don't know what is. Pack your bags and head to Japan's hidden gem – you won't regret it!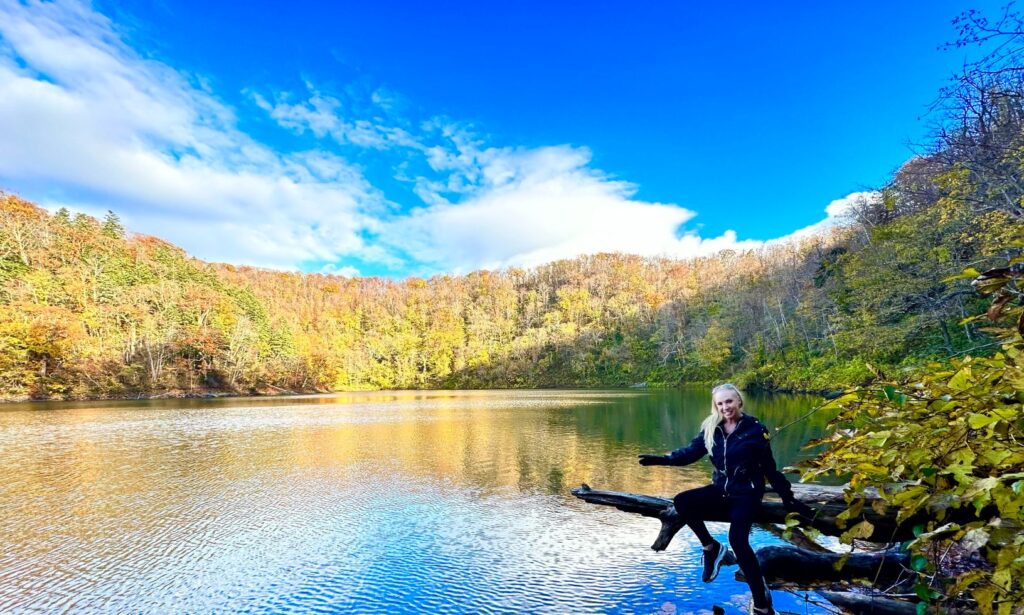 Getting to Hozukyo Gorge: Transportation Options
Nestled in the outskirts of Kyoto, the Hozukyo Gorge is a stunning hidden gem waiting to be explored. Offering an awe-inspiring blend of natural beauty and tranquility, this scenic spot is perfect for taking a break from the hustle and bustle of city life. So how do you get there? Don't fret—below, we've covered all the transportation options you need to know. We've got you covered whether you prefer riding the train, driving, hopping on a bus, or even biking or walking. Let's get started!
Accessing Hozukyo Gorge by Train: Hozukyo Station
The easiest way to reach the Hozukyo Gorge is by train. Start by hopping on the JR Sagano Line (also known as the JR San-in Line) from Kyoto Station. It's a scenic, 20-minute train ride that takes you directly to Hozukyo Station. Before you know it, you'll find yourself surrounded by the gorgeous landscapes of Hozukyo Gorge.
Once you arrive at Hozukyo Station, it's just a short walk to the entrance of the gorge. From there, you're free to explore the breathtaking scenery and immerse yourself in this serene haven.
Reaching Hozukyo Gorge by Car: Parking and Tips
If you prefer to have more control over your journey, driving to Hozukyo Gorge might be the best option for you. From Kyoto, it's roughly a 30-40-minute drive along National Route 9.
Parking is available at the Hozukyo Water Park, located near the entrance to the gorge. There, you will find ample parking spaces and facilities. Be mindful that traffic can get heavy during peak travel times or holiday seasons, so plan your trip accordingly to avoid potential delays.
Bus Services to Hozukyo Gorge: Which Bus to Take?
Not a fan of trains or driving? No problem—you can also take a bus to Hozukyo Gorge. The Keihan Kyoto Kotsu bus service operates a route from Arashiyama that passes by the beautiful gorge. Just look for bus line "H" and hop on. You'll travel through scenic countryside landscapes and reach Hozukyo Gorge within 20-30 minutes.
Once you get off the bus, it's only a matter of strolling down to the gorge itself—a walk that, in and of itself, is a treat to the senses.
Considerations for Biking or Walking to Hozukyo Gorge
For the more adventurous types, biking or walking to Hozukyo Gorge can be a fantastic experience. While it's a bit more challenging, it rewards you with a unique sense of accomplishment and even more opportunities to take in the picturesque surroundings.
The distance from central Kyoto to Hozukyo Gorge is approximately 18 kilometers, making it a manageable day trip for avid cyclists or hikers. Just be prepared for the journey and consider your stamina and fitness level—remember, it's not a race! Take your time to savor the beauty of the area as you make your way to the gorge.
Remember to stay safe, stay hydrated, and always respect the local environment and community as you embark on your journey to Hozukyo Gorge. After all, it's one of Japan's best-kept secrets, and every effort should be made to keep it as pristine and breathtaking as possible. Happy exploring!
Exploring the Gorge: Top Attractions
Hidden deep within the lush green mountainscape of Kyoto, Japan, lies Hozukyo Gorge, an area bursting with natural beauty and a sight that'll truly captivate your senses. This serene location is often overshadowed by the hustle and bustle of the city, and still remains relatively unknown, even to locals. So if you're yearning to uncover Japan's hidden gems, be sure to add Hozukyo Gorge to your must-visit list. Let's delve in and explore the top attractions this enchanting area offers.
Hozugawa River: The Heart of the Gorge
Carving its way through the breathtaking landscape, the Hozugawa River serves as the heart of the Gorge. The river's crystal-clear waters sparkle amidst the densely forested cliffs, creating a view that's simply picturesque. It's no wonder this river has inspired countless Japanese poets and artists throughout history – just one glimpse will have you utterly mesmerized. What better way to appreciate the beauty of the Gorge than to explore its star attraction? You're in for some unforgettable experiences, that's for sure!
Hozukyo Torokko Train: Scenic Ride through the Gorge
All aboard the Hozukyo Torokko Train! Considered one of Japan's most scenic train rides, this open-air train journey offers unrivaled views of Hozukyo Gorge and the surrounding landscape. Your senses will come alive as you feel the warm breeze, hear the gentle rustling of leaves, and take in the panoramic vistas of the valley below. Whether you're traveling solo, with friends, or making memories with family, you'll find this tranquil ride the perfect opportunity to soak in Hozukyo Gorge's natural beauty.
Hozugawa River Boat Adventure: Sightseeing and Thrills
Do you have a thirst for adventure? Then you'll love drifting down Hozugawa River on a traditional wooden boat. This two-hour journey combines serene sightseeing and adrenaline-pumping excitement, as experienced boatmen skillfully navigate the turbulent rapids and calm waters. Keep your eyes peeled, as you'll spot a myriad of native birds and animals along the way. And the gorgeous foliage that envelops the waters? It's the icing on the cake. So come on, hold tight, and prepare to be wowed on this once-in-a-lifetime escapade!
Walking Trails and Hiking Routes in Hozukyo Gorge
For nature enthusiasts and avid hikers, Hozukyo Gorge offers a world of exploration on foot. Leisurely stroll or trek more demanding routes through the verdant forests, as you enjoy the serenity that only nature can provide. Feel the earth beneath your feet, breathe in the crisp air, and let your worries float away with each step you take. As you ascend, revel in the increasingly awe-inspiring views of the gorge, the river, and the surrounding landscape. Trust us, you won't want to forget your camera when visiting Hozukyo Gorge.
Now that you've gotten a taste of Hozukyo Gorge's top attractions, what are you waiting for? Start planning your visit to this hidden gem for an unforgettable experience immersed in nature's splendor. After all, finding such a serene oasis amidst the fast-paced world is no easy feat. Escape the city's hustle and bustle as you indulge your senses in the wonders of Hozukyo Gorge – truly a gem worth discovering!
Best Times to Experience Hozukyo Gorge: Seasonal Highlights
When you visit Hozukyo Gorge, the experience changes with the seasons—and trust us, you'll want to (and should!) experience every breathtaking season this hidden gem offers. Discover the beauty of Hozukyo Gorge through cherry blossoms, summer greens, autumn leaves, and the winter's pristine snow.
Cherry Blossom Season: A Spring Spectacle in Hozukyo Gorge
Spring breathes new life into Hozukyo Gorge. As the cherry blossoms emerge and the valley comes alive in shades of pink and white, there's no better time to take a stroll along the walking trails or ride the Sagano Romantic Train through this magical wonderland.
When the cherry blossoms reach their peak (usually in early April), you'll want to make sure you have your camera at the ready to capture the enchanting sights. And who wouldn't want to snap a photo of those delicate petals, framed by the gorge's towering, moss-covered cliffs? Don't miss this opportunity to bear witness to one of nature's most ethereal shows.
Summer Activities in the Gorge: Escape the Heat and Crowds
As the temperatures rise, Hozukyo Gorge becomes a popular destination for those looking to escape the summer heat. With its lush greenery, cool mountain streams, and refreshing breezes, the gorge provides the ultimate respite from the city's sweltering concrete jungle. And with fewer visitors than other nearby tourist hotspots, you can get up close and personal with nature without having to jostle for a spot.
Why not give rafting a whirl or try your luck at fishing in the crystal clear waters of the Katsura River? And if you're not an adrenaline junkie, fret not—simply take in the verdant scenery as you enjoy a leisurely hike or train ride through the gorge. Summer is the perfect time to explore the myriad outdoor activities this hidden gem has to offer.
Autumn Leaves and Colors in Hozukyo Gorge: A Photographer's Dream
Mother Nature takes center stage once more as autumn makes its entrance. Come fall, Hozukyo Gorge transforms into a vibrant kaleidoscope of reds, oranges, yellows, and greens. Whether you're an amateur shutterbug or a seasoned pro, autumn in the gorge presents photo opportunities that are too good to miss.
Hiking is an excellent way to take in the breathtaking fall colors, and with the crisp air nipping at your cheeks, you'll enjoy an invigorating walk through nature's masterpiece. Alternatively, embark on a scenic train journey to experience the beauty of Hozukyo Gorge from a unique perspective. And as you watch the fiery leaves scatter from the trees, you'll soon realize why the Japanese have a special word—koyo—for the sight of these resplendent autumn leaves.
Winter in Hozukyo Gorge: Snowy Landscapes and Tranquility
For a truly serene and romantic experience, there's nothing quite like winter in Hozukyo Gorge. As snow blankets the landscape, the gorge is enveloped in a hushed stillness—a stark contrast to the hustle and bustle of other seasons.
Wrap up warm and embark on a peaceful hike through snow-dusted forests, or take an enchanting train ride through the gorge as you take in the stark beauty of the surroundings. The steaming hot springs—called onsen—near the gorge provide the perfect opportunity to soak away your cares after a day spent exploring the snowy landscape.
No matter the season, Hozukyo Gorge never ceases to amaze with its ever-changing allure. So bundle up or pack your sunblock, and immerse yourself in the seasonal splendor of Japan's best-kept secret.
Savoring the Local Cuisine: Dining Options near Hozukyo Gorge
One of the best parts of traveling is indulging in the delicious local cuisine. As you explore the picturesque scenery of Hozukyo Gorge, you'll find an array of delectable dining options in the area to satiate your appetite. From quaint cafes to traditional Japanese restaurants, you're sure to find something that tantalizes your tastebuds.
Local Restaurants and Cafes: Dine with a Gorge View
What better way to enjoy your meal than with a stunning view of the very landscape you're exploring? Well, you're in luck! Hozukyo Gorge is home to several local cafes and restaurants that offer breathtaking views of the gorge itself. One such eatery, the Hozukyo Waterside Cafe, serves up scrumptious meals and refreshments with the added bonus of floor-to-ceiling windows overlooking the gorge. Now that's what we call dining with a view!
Experiencing Traditional Japanese Food in Hozukyo Gorge
When in Rome—er, Japan—do as the Japanese do and indulge in traditional cuisine. Hozukyo Gorge presents you with the perfect opportunity to enjoy some authentic Japanese fare, from delicate sushi rolls to steaming bowls of ramen and everything in between. Be sure to stop by local establishments like Yamasushi or Sobadokoro Komugi to experience the best of Japanese culinary culture. Don't forget to save room for dessert—Japanese sweets like mochi are absolutely delectable and not to be missed!
Convenience Stores and Supermarkets: Snack Options for Hikers
If you're looking to fuel up on some quick bites before (or during) your hike through the picturesque Hozukyo Gorge, fear not—there are plenty of convenience stores and supermarkets nearby that offer a wide array of scrumptious snacks to choose from. Stock up on onigiri (rice balls), Pocky sticks, or even a bento box to enjoy a tasty, portable meal as you traverse the beautiful terrain. Pro tip: 7-Eleven, Lawson, and Family Mart are all popular chain stores in Japan known for their mouthwatering snack selections. So go ahead and treat yourself to some savory nibbles as you enjoy the natural beauty of Hozukyo Gorge—you've earned it!
So there you have it! From breathtaking gorge views as you enjoy your meal to savoring the best of traditional Japanese cuisine, Hozukyo Gorge offers plenty of dining options to suit any palate. Now let's get out there and explore this hidden gem while also satisfying our hunger for both adventure and delectable fare!
Accommodation Options: Where to Stay near Hozukyo Gorge
As you plan your visit to Hozukyo Gorge, Japan's hidden gem, it's essential to know your accommodation options in the area. Staying nearby will allow you to truly explore and enjoy this stunning destination. From ryokans and traditional inns to hotels, guesthouses, and camping options, you will find a fitting place to rest after a day of adventuring.
Ryokans and Traditional Inns: Experience Authentic Japanese Hospitality
If you're looking for an authentic Japanese experience, you can't go wrong with staying in a ryokan or traditional inn. These accommodations offer you the chance to immerse yourself in the local culture and traditions. Many ryokans near Hozukyo Gorge feature Japanese-style rooms with tatami floors, futon beds, and sliding shōji doors, providing a unique and welcoming atmosphere.
Many ryokans also offer on-site hot spring baths or access to nearby public baths, where you can unwind and relax after a day of exploration. Some even provide traditional meals, like kaiseki multi-course dinners and Japanese-style breakfasts, giving you a taste of the local cuisine and culture. Staying in a ryokan or traditional inn will surely enhance your experience at Hozukyo Gorge.
Hotels and Guesthouses near Hozukyo Gorge: Comfort and Convenience
For those who prefer more familiar lodging options, there are numerous hotels and guesthouses in the vicinity of Hozukyo Gorge. These accommodations often provide modern amenities like air conditioning, Wi-Fi, and private bathrooms. You'll find a range of options, from budget-friendly to more luxurious hotels and guesthouses, ensuring that you find the perfect place to stay during your visit.
Hotels and guesthouses around Hozukyo Gorge also often offer easy access to nearby attractions, such as temples, shrines, and hiking trails. Some accommodations even provide bicycle rentals, allowing you to explore the area at your own pace and on your own terms.
Camping Options in and around Hozukyo Gorge: Connect with Nature
For nature lovers and outdoor enthusiasts, camping can be a great option to fully immerse yourself in the beauty of Hozukyo Gorge. Several camping sites offer a range of facilities, from basic tent sites to cabins with kitchens and bathrooms.
Camping near Hozukyo Gorge will provide you with the opportunity to wake up to stunning views and take full advantage of the outdoor activities the area has to offer. Hiking, fishing, river rafting, and birdwatching are just a few of the possibilities that await you. Plus, nothing beats the experience of sitting around a campfire under the stars after a day of exploring the gorge.
No matter your accommodation preference, you can rest easy knowing there's a fitting place for you near Hozukyo Gorge. By choosing the perfect lodging option, you'll be well on your way to enjoying a memorable and rejuvenating trip to this beautiful hidden gem in Japan.
Activities Beyond the Gorge: Nearby Attractions
Hozukyo Gorge is a stunning, lesser-known destination in Japan. But don't worry, there's plenty more to see and do in the area if you're in the mood to broaden your horizons and explore even more of Japan's beauty. In this section, we'll cover a few nearby attractions that you can visit after marveling at the serenity of Hozukyo Gorge.
Sagano Scenic Railway: A Fantastic Day Trip from Hozukyo Gorge
Got a hankering for some scenic landscapes on a thrilling train ride? Then you're in luck! A short jaunt away from Hozukyo Gorge, you can hop aboard the Sagano Scenic Railway – a picturesque train journey that takes you through the heart of rural Kyoto. The train winds along the Hozugawa River and offers breathtaking views of the surrounding mountains. Trust us, you'll be in awe as you take in the sights!
The scenic railway is also known as the "Romantic Train," so if you're traveling with your significant other, it's the perfect opportunity to cozy up and revel in a romantic setting. And, if leisurely travel is right up your alley, consider combining your train ride with a traditional Hozugawa riverboat cruise for an unforgettable experience. Bonus: you'll get to see even more of the stunning Hozukyo Gorge!
Bamboo Forests of Arashiyama: A Relaxing Escape from Hozukyo Gorge
Feeling like you need a zen moment away from the hustle and bustle of life? The Bamboo Forests of Arashiyama are for you. Only a stone's throw away from Hozukyo Gorge, these sprawling bamboo groves have become an iconic symbol of Japan and will provide you with a truly tranquil atmosphere. A stroll through these towering stalks of bamboo will leave you feeling rejuvenated and connected to nature.
While you're in Arashiyama, you'll also find a myriad of charming temples, shrines, and more to explore. Don't miss the picturesque Togetsukyo Bridge or the enchanting Okochi Sanso Villa, which boasts a beautiful Japanese garden. There's no shortage of Insta-worthy spots in this utterly photogenic locale, so make sure you've got your camera ready!
Exploring Kameoka: Enjoy the Local Culture and Heritage
Looking for a more authentic Japanese experience to complement your visit to Hozukyo Gorge? Then Kameoka is the place to be. This quaint little town offers a glimpse into Japan's storied past and is brimming with cultural sites and heritage landmarks.
For starters, consider a visit to the resplendent Anaoji Temple, a hidden gem that dates back to the 8th century. Next up, why not venture to the Kameoka Castle ruins, where you can delve into the area's rich history and marvel at its majestic stone walls? Wrap up your day with an indulgent dip in one of Kameoka's traditional 'onsen' or hot springs – you'll feel like you've stepped back in time and discovered Japan's rural soul.
So, there you have it – a myriad of exciting opportunities to explore the beauty of Japan's hidden gems beyond Hozukyo Gorge. Whether it's the scenic railway, impossibly romantic Bamboo Forests of Arashiyama, or the cultural treasure trove of Kameoka, one thing's for sure: you're in for an unforgettable adventure!
Tips for Enjoying Your Hozukyo Gorge Adventure
Whether you're an experienced hiker or a first-time adventurer looking to escape the hustle and bustle of city life, Hozukyo Gorge is the perfect destination for you! As a hidden gem in Japan, there are a few things to consider when planning your trip, as well as some essential items to bring along for the journey. Don't worry, we've got you covered! Follow these tips and you'll be well on your way to enjoying an unforgettable experience at Hozukyo Gorge.
Planning Your Hozukyo Gorge Itinerary: Must-See Sights
When it comes to exploring Hozukyo Gorge, there's more than meets the eye. Here are some must-see sights you don't want to miss out on:
Hozukyo Station: Start your adventure on the right foot by taking the scenic Sagano Scenic Railway to Hozukyo Station, which offers thrilling views of the gorge right from the get-go.
River Cruise: Hop aboard the Hozugawa River Cruise, a traditional wooden boat that glides through breathtaking scenery. You'll be captivated by the rugged cliffs and enchanting forests that surround the serene river.
Hiking Trails: Nothing beats stretching your legs and venturing into the heart of the gorge via its network of astounding trails. Be sure to tackle the popular Sagano Kanko Line trail, which weaves through lush forest and alongside crystal-clear streams.
Safety Tips for Hiking and Rafting in Hozukyo Gorge
Though it's a dream destination, Hozukyo Gorge isn't without its hazards. Keep these safety tips in mind to ensure a smooth-sailing adventure:
Check the weather beforehand: Avoid any nasty surprises by keeping a close eye on the forecast. Though the gorge's beauty shines through rain or shine, heavy rainfall can cause slippery trails and potential flooding.
Tread carefully: The uneven terrain of the gorge's trails makes sturdy hiking boots a must! Also, watch out for loose rocks and exposed tree roots to minimize the risk of sprains or falls.
Stay on designated paths: It might be tempting to venture off the beaten track, but sticking to established trails is key for your safety and to minimize your impact on the environment.
Take your time: Don't overexert yourself during your Hozukyo adventure. Allow enough time for rest breaks and photo ops, and don't forget to hydrate frequently.
Packing Essentials for Your Hozukyo Gorge Journey
A successful Hozukyo Gorge trip starts with smart packing. Here are some essentials you shouldn't leave behind:
Water bottle: Staying hydrated is crucial, so be sure to bring a refillable water bottle with you.
Snacks: Refuel with some energy-boosting snacks like trail mix, granola bars, or fruit.
Proper attire: Dress in comfortable, moisture-wicking clothes and don't forget a hat and sunglasses to shield yourself from the sun.
Sunscreen & bug spray: Protect your skin from the sun's rays and pesky insects by applying sunscreen and bug repellent regularly.
First aid kit: Accidents happen, so be prepared with a small first aid kit containing bandages, pain relievers, and any personal medications.
Camera: Don't forget to capture the stunning beauty of the gorge that'll leave your friends green with envy!
Etiquette and Customs: Respecting Local Culture in Hozukyo Gorge
While exploring Hozukyo Gorge, be mindful and respectful of local customs and traditions:
Stay quiet: Keep noise levels to a minimum, especially in serene, natural surroundings, to avoid disturbing wildlife and fellow visitors.
Clean up after yourself: Leave nothing but footprints! Be sure to pick up any trash, even if it's not yours, and take it with you when you leave the area.
Respect wildlife: Observe from a distance and avoid feeding or touching any animals you may encounter.
Follow signs and guidelines: Abide by any posted signs and guidelines throughout the gorge to ensure you're visiting in a respectful and responsible manner.
By following these tips, you'll be well on your way to a memorable adventure, exploring the captivating beauty of Hozukyo Gorge. So, buckle up and get ready to discover the well-kept secret that is Japan's hidden gem!
FAQs about Hozukyo Gorge
Is Hozukyo Gorge Safe for Solo Travelers?
Absolutely! Hozukyo Gorge is a safe and welcoming destination for solo travelers. Locals are friendly and always eager to help if you need any assistance. The hiking trails are well-maintained, and you'll never feel too far from civilization. That being said, it's always a good idea to let someone know your travel plans, especially when venturing out on your own. So go ahead, don't hesitate to explore the mesmerizing beauty of this hidden gem all by yourself!
Are There English-Speaking Guides in Hozukyo Gorge?
Indeed, there are! Though Hozukyo Gorge is an off-the-beaten-path destination, you'll still come across several English-speaking guides. There are guided tours available that cater to foreign visitors. However, it's a smart move to book one in advance to ensure they'll be available during your visit. Alternatively, it's entirely possible to explore the gorge independently, armed with just a map and some basic Japanese phrases.
What is the Best Time of Day to Visit Hozukyo Gorge?
There isn't a "one-size-fits-all" answer for this question! The best time of day to visit Hozukyo Gorge depends on your preferences. If you're an early bird, the morning hours offer a serene atmosphere, and you might even catch some stunning sunrises. If you're more of an afternoon explorer, you'll enjoy the gorge's lush greenery as it basks in daylight. And for the romantics, nothing beats the magical glow of the sunset reflecting on the water. The key takeaway? You can't go wrong, no matter the time of day!
Are Pets Allowed in Hozukyo Gorge?
Great news for pet lovers – your furry friends are welcome in Hozukyo Gorge! Just make sure to keep your four-legged companions on a leash and pick up after them. Also, pay attention to signs indicating restricted areas and respect them for the sake of the gorge's delicate ecosystem. With a bit of courteous care, you and your pets are free to dive into the natural splendor of Hozukyo Gorge together.
Are There Wheelchair Accessible Routes in Hozukyo Gorge?
While Hozukyo Gorge is mostly a hiker's paradise, there are some wheelchair accessible routes you can explore. The area around Hozukyo Station, for instance, offers a gentle, paved path with views overlooking the gorge. Be advised, though, that some areas may be less accessible due to the rugged nature of the terrain. It's always best to do your research and plan accordingly for a hassle-free visit!
Can I Rent a Bicycle near Hozukyo Gorge?
You bet! Cycling is a fantastic way to explore the picturesque landscapes surrounding Hozukyo Gorge. Several bike rental shops are available in the nearby towns of Kameoka and Sagano. Many of them offer different types of bicycles, including electric ones, to cater to riders of all levels. Just bear in mind that certain parts of the gorge are best explored on foot due to the steep and uneven terrain. Nonetheless, cycling through this scenic region is surely a memorable adventure in and of itself.